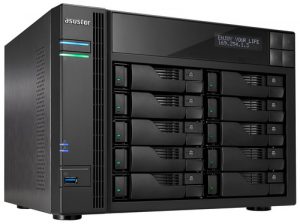 NAS (Network-Attached Storage) devices usually take the form of a stand-alone server which is attached to the network, to provide data storage for any computer attached to the network which has the required access. A NAS file server is usually purpose built for the task and may consist of a single disk, although most now use a RAID array to increase the available capacity. These RAID arrays can usually be configured with the RAID level you require at installation time.
NAS systems are often referred to as networked appliances, as they are independent of all other devices attached to it. The appropriate network sharing protocols, such as NFS, SMB/CIFS and AFP are incorporated into the NAS system making it a simple task to provide a networked file server for any computer using any operating system.
This addresses the problems normally associated with sharing file space on a computer, which may need to be rebooted for an operating system update, software installation or hardware change. The whole process of sharing files or setting dedicated user space, depending on the options of the NAS, is simplified.
As with all computer systems, a NAS server is subject to the same probabilities of hardware failure or logical data issues. If your NAS server fails you can either send the entire NAS appliance or all the hard disks contained within it for data recovery. It is important as all the drives are required for us to complete the diagnosis and recovery of files from the device.
In the event of a NAS server failure, it is important to power the server down safely and contact DiskEng, to discuss our data recovery services.