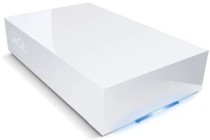 The LaCie CloudBox NAS system was introduced in November 2014, available in three different sizes up to 4TB in capacity. It is designed to be connected to a gigabit network providing dedicated server space using the SMB and AFP protocols to provide network storage for Windows, Linux and Mac OS X computer systems.
Aimed primarily at the SOHO (Small Office Home Office) market, it allows password protection for up to 10 users. LaCie operate their own MyNas service which allows the data stored on the CloudBox to accessed remotely via their remote Private Cloud protocol.
The LaCie CloudBox should be positioned in a safe place within the office, making it only subject to the typical failure issues seen with any other hard disk drive. If your LaCie CloudBox fails, it is important to power it down before further damage can result, then contact DiskEng to consult with a data recovery expert, who can give you advice about our fastest solution to your problem.